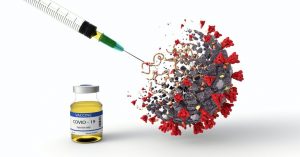 At this time TriValley Primary Care is not giving COVID-19 vaccines in our offices, nor are we keeping waitlists for interested patients.  We encourage all of our patients to get vaccinated through available community resources.  Please continue to visit our website at  trivalleypc.com for further information regarding the vaccine including links for local county and hospital registrations.  All vaccine related updates will be regularly published on our website.  Thank you.
For more information about vaccination please use these links.
Check Eligibility for COVID Vaccination – 'Your-Turn'
Updated 2/10/2021
---
To Pre-Register for COVID Vaccination please use the links below
Grand View Health
Click HERE for Information about Vaccination
St. Luke's University Health Network
Click HERE for Information about Vaccination
---
Montgomery County
Montgomery County is preparing for vaccine roll out with online pre-registration for:
People who are 65 years of age or older, OR
Individuals who have health conditions that qualify them for Phase 1B or 1C.
Individuals in these groups can pre-register HERE 
---
Bucks County
Bucks County Health Department is currently registering essential workers of Bucks County who meet the following criteria for COVID-19 vaccination scheduling: PHASE 1A, 1B, 1C.
Please use the below link, which will take you to the surveys for Phase 1A, 1B and 1C (Phase 1C survey coming soon).  Once you have completed the correct survey, you will be contacted by the BCHD.
Fill out Phase 1A, 1B, and 1C COVID-19 Vaccine Survey
HERE
---
Lehigh County
To more learn more about vaccination with the Lehigh Valley Health Network please click HERE.
---
Philadelphia County
Philadelphia is preparing for vaccine roll-out. Patients can pre-register to be contacted for a vaccine; this link does not schedule an appointment or establish a place in line.  By registering here, Philadelphia residents will become notified when they become eligible to be vaccinated.  This information helps city officials determine where vaccination centers should be located.
---

Answers to FAQs
Senior living residents, whether in independent living or personal care, should be contacted by their retirement community as to when they may be eligible to receive available vaccine at their facility.
TriValley has no current plan to provide the COVID-19 vaccines in our offices. We do not offer sign ups or waiting lists at this time.
If TriValley decides to start offering COVID-19 vaccine in the future, we will inform patients via the portal, phone call, text messages and on the website.
See the referenced websites for county health departments for vaccine rollout plans and when you might qualify