1. Patient Portal / Healow App
To schedule a televisit you must have:
High speed internet
Access to Patient Portal with webcam, microphone and speaker

   

OR

 

Healow App on your smartphone (iPhone or Android device)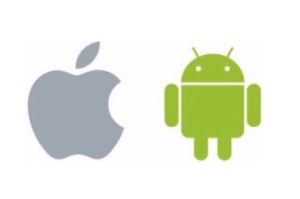 Televisits are NOT available for all visit types as physical examination may be vital for the evaluation of many complaints.
Complaints that can possibly be assessed by Televisits can include:
Follow up on testing results
Depression / Anxiety follow up
Rashes
Urinary tract infections
Low back pain
Pink eye / conjunctivitis
… among others
Please call your TriValley office to see if your complaint may be suitable for a Televisit.
Scheduled a Televisit?
If you have scheduled a Televisit you should receive two emails from TriValley.
1.  One email will display the appointment details and include a link to launch directly into the Televisit if on a computer.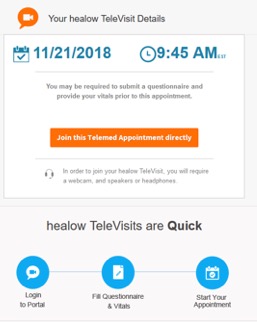 2.  The second email will also have the appointment details and will include the Advanced Beneficiary Notice (ABN) that must be agreed to prior to proceeding with the Televisit.
Please review the ABN.  When launching the Televisit you will be prompted to choose Option 1 to Proceed or Option 2 to Decline.  If choosing Option 2 we cannot do the Televisit.  
Many insurances, but not all, will pay for Televisits and you will be subject to a copay.  If your insurance does not pay, you will be subject to the charge shown in the ABN.

2. Connecting by doxy.me
Please click the link below to join your provider's virtual waiting room.
3. FaceTime
Patient must have iPhone. Your TriValley office will contact you.
4. Doximity
Patient must have Apple or Android phone.  Your TriValley provider will text you a link for easy connection.
5. WhatsApp
Patient must have WhatsApp installed and configured on their phone. Your TriValley office will contact you.